Introducing exploration geophysics to students using Ohm's law: A case study of prospecting for groundwater by Hlangabeza high school students in Nkayi rural district of Zimbabwe
Keywords:
Aquifer, Electrode, Exploration, Groundwater, Resistivity
Abstract
This study sought to explain how a familiar physics topic of Ohm's law of electricity can be used to explore the interior of the earth. The paper gives the theory on the resistivity method of exploration and how it is used for constant separation traversing and vertical electrical sounding. A fieldwork done by physics students from Hlangabeza high school, in Nkayi district, Matebeleland north province, Zimbabwe is given in detail. This involved locating a drilling site for a groundwater borehole. The Schlumberger depth sounding data where interpreted using a computer freeware. This was used to computer a layered earth model using least square technique to match the theoretical apparent resistivity curve as close as possible to the field curve. This provided depth information of the weathered layer above the bedrock at selected site. The overall results suggest that teaching physics can easily be done through putting theory into practice. The fieldworks demonstrated that they prop up the development of expert science behavior in students.
References
Batte, A.G. Muwanga, A and Sigrist, W.P., 2008, Evaluating the use of VES as a Groundwater exploration technique to improve on the certainty of borehole yield in Kamuli District (Eastern Uganda). AJST, v. 9, n. 1, p. 72-85.
Cooper,G.J.R., 2000, VES Freeware GGRC cosmos. http://dspace.dial.pipex.com/town/place/vy12/products/cooper/ves.html on the 15/02/09.
Gee, B., 1969, Georg Simon Ohm 1781 – 1854, Journal of physics education.4 (106). Retrieved from http://www.iop.org. 09/02/09.
Etkina, E., Lawrance, M. and Charney, J., 1999, Introducing astrophysics research to high school students. Journal of physics Education, v.34, n.5, p. 300-305.
Hobbs, B.A., 1999, Investigating Brownfield sites with electrical Resistivity. Journal of physics education, v.34, n. 4, p. 192-198.
Johnson, K., Hewett, S., Holt, S and Miller, J., 2000, Advanced Physics for You. Nelson Thornes Ltd. UK. pp. 194.
King, C and Kennett, P., 2002, Earth science contexts for teaching physics, part 1 & 2.Journal of physics education, v. 37, n. 6, p. 467-491.
Lashkaripour, G.P., 2003, An investigation of groundwater condition by geoelectrical resistivity method: A case study in Korin aquifer, southeast Iran, Journal of Spatial Hydrology, 3(1).
Lowrie, W., 1997, Fundamentals of Geophysics. Cambridge University press. UK, pp. 120-160.
Mussett, A.E. and Khan, M. A., 2000, Looking into the earth, an introduction to geological geophysics. Cambridge University press. UK pp. 183-211.
Telford, W.M., 1990, Applied Geophysics 2nd edition. Cambridge University press. UK, pp. 283–591.
Ward, S.H., (1990). Electrical resistivity techniques for surbsurface investigations. Retrieved from http://www.dot.ca.gov/hq/esc/geotech/gg/geophysics. 15/02/09.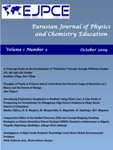 Downloads
How to Cite
Ndlovu, S., Munjeri, K., Munyaradzi, M., Magombe, E., Nyakotyo, H., & Magama, M. T. (2009). Introducing exploration geophysics to students using Ohm's law: A case study of prospecting for groundwater by Hlangabeza high school students in Nkayi rural district of Zimbabwe. International Journal of Physics &Amp; Chemistry Education, 1(2), 77–85. Retrieved from https://www.ijpce.org/index.php/IJPCE/article/view/8
License
Copyright © Authors