Comparative Effect of the Guided Discovery(GD) and Concept mapping Teaching Strategies on Senior Secondary School Students (SSSS) Chemistry Achievement in Nigeria
Keywords:
Guided discovery, Concept mapping, Chemistry achievement
Abstract
The study compared the relative effectiveness of the guided discovery and concept mapping teaching strategies in relation to students' performance in chemistry. A total of 360 SSS chemistry students who have registered for SSCE drawn from 4 secondary schools in Bauchi Local Government Area formed the sample for the study. A 40-item Chemistry Teacher Made Achievement Test (CMAT) with characteristics (0.35≤+≤0.72; 0.21≤d≤1.00 and KR 20 =0.86) was administered on the students to generate data for analysis. The test items span all the intellectual levels of the cognitive domain. There were (retention) treatments. A t-test statistic was used to analyse the data obtained. The results indicated that there is no significant difference in he mean scores of he students due to the method post-post test (retention) treatments. There was also no significant difference due to gender when the mean scores of the
students in each of the methods adopted were compared on the post-post test (retention) treatment.
References
Cliburn, J.W. (Jr) (1987). How to do it Helping students understand Physiological Interaction: a concept mapping activity. The American Biology Teacher, 49(7), 426-427.
Demide, C.O.(2000). Enhancing the Transition from concrete to formal cognitive level of Achievement in Chemistry. An unpublished M.Ed Thesis, Abubakar Tafawa Balewa University, Bauchi.
Federal Government of Nigeria (2000-2007). National Policy on Education.Federal Ministry of Education (1985). Chemistry curriculum for Senior Secondary School.Inomiesa, E.A (1997). What is Science?
Okoye, N.S.,.Inomiesa, E.A, Umudhe, S.E. and Ezenweani, U.I. Science and Technology Education, About Research publishers, Warri.
Okebukola, P.A.O. (1990). Attaining meaningful learning of concept of genetics and ecology; and examination of concept mapping techniques. Journal of Research in Science Teaching, 27(5), 493-504.
Oloyede, O.I. (2004). Effect of Small group Instructional Techniques on chemistry Achievement of SSS slow learners ABUJOUS, 2 (2).
Udeani, U. (1993). The effect of concept mapping Instructional techniques or the biology attainment of Senior Secondary School, slow learner. Review of Education, 13, 1-9.
West African Examination Council (2000 – 2007). Chief Examiner Report in the May/June Ordinary level SSSCE.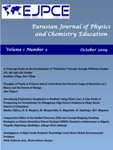 Downloads
How to Cite
Ikedolapo, O. O., & Adetunji, A. F. (2009). Comparative Effect of the Guided Discovery(GD) and Concept mapping Teaching Strategies on Senior Secondary School Students (SSSS) Chemistry Achievement in Nigeria. International Journal of Physics &Amp; Chemistry Education, 1(2), 86–92. Retrieved from https://www.ijpce.org/index.php/IJPCE/article/view/9
License
Copyright © Authors